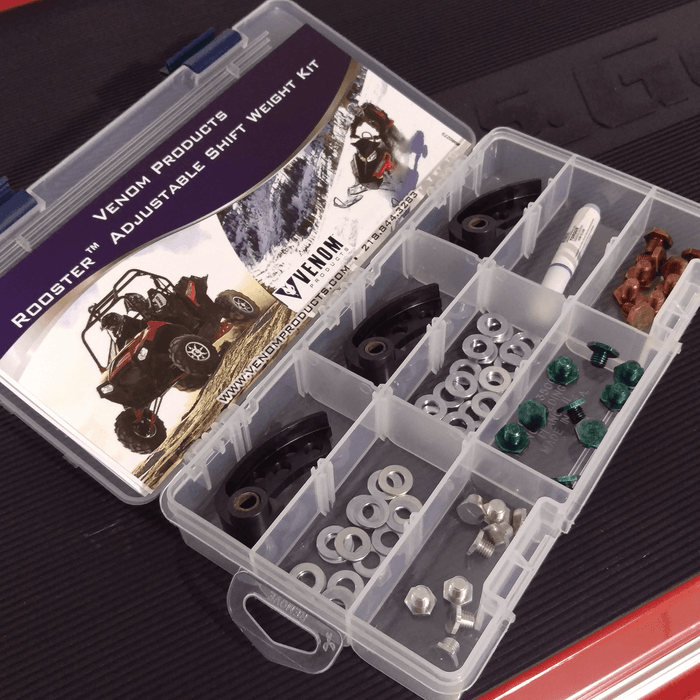 ROOSTER™ ADJUSTABLE SHIFT WEIGHT KIT, POLARIS RZR XP TURBO, 50-71 GRAM
The only shift weight you will ever need! Our Rooster™ adjustable shift weights allow you to put the gram weight right where you need it to optimize your shift curve. Turbo or big bore guys can load them up to use that new found power.
Most clutch kits are very limited in what they can do. They may be perfect for a given combination or off by a mile. They were generally tested at one elevation, on one machine, with one tire/wheel combo. The beauty of the Rooster kit is it is literally the only fly weight you will ever need. You can tune your machine exactly (you can even call us or Venom if you need help) for your setup, your conditions and your preferences. Then, when you get a new exhaust, bigger tires, are heading on your annual dune trip, a new flash, etc. you simply re-tune using the weights in this kit. From mild to wild this kit has you covered. No other clutch kit on the market offers this level of adjustability. This is what we use when building Turbo kits, big bores, race machines, etc. The best we have ever come across.
** FITS RZR XP TURBO 2016-UP, FACTORY TURBO